Holy Yoga! What I never expected.
Updated: Dec 20, 2019
When the year 2018 began, I had (4) main goals: to become a birth doula, a postpartum doula, obtain my passport and become yoga certified. Currently, (2) goals have been completed. I am an active doula and I started my Smai Tawi (Kemetic Yoga) certification mid August 2018. Talk about being excited to check off another personal conquest. I can be very disciplined and organized person so I wasn't the least bit intimidated about this journey. I was ready!
I knew that I knew that I knew that I was supposed to become yoga certified. This particular certification requires you to do yoga every single day. It is a yoga that approaches spirituality verses athleticism. We have to do 100 consecutive days of yoga. Doing yoga every day makes it a lifestyle... a way of life. It is also a requirement to eat as close to a vegan diet as possible, journal daily, not indulge in alcohol or drugs that will alter our state, get at least 1 hour of sun a day, drink 50% of our body weight of water daily, self evaluate through checks and balances and go to bed at sun down. Living a Maatic Life (One of balance and truth) . These seemed simple enough. Most of which I was already doing on my own. Even though I like a nice glass of wine every now and then after a long week, I was ok.
Of course my calm and peaceful life decided to become chaotic during that 3rd/4th week of the course. All kinds of personal life stuff began to surface. Yoga was beginning to get more difficult to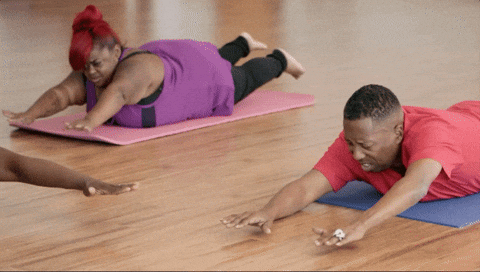 approach each day. I just wanted to lick my wounds and eat foods that comforted me. I wanted to be left alone. I wanted the space to deal with this body that was tired and turning on me. I wanted the space to deal with my painful issues with my son. I missed a few classes due to traveling, not feeling well and then it happened! I was falling behind. I didn't like that. My ego began to whisper messages of fear in that sultry wise voice, "This doesn't fit in your perfect vision of your process. Let it go." "Your body can't keep up with this. You need to detox and come back"
Now my issues that I thought I laid to rest with perfectionism started to appear again. What I was creating was becoming one big blob of a mess. The end result to acting out my fears and one action creating another thing to react to. Now I'm in the space where I just want a "Do over!" Things just weren't perfect enough for me to continue this class. I need it to be perfect and I want perfect timing. At this point, blocks are coming up creating a stuck energy in me. In addition, my middle age body was turning on me. She no longer was bending like I know her to. She wasn't moving the way I had relied on her for so many years. Of all years! She was speaking to me and I didn't like what she was saying. Knees and joints were aching, I was depleted for August and September, Constipated literally and spiritually. My wrist were having trouble holding my weight because of years of working on the computer as a graphic designer. On top of that...Why can't I do the Geb Wheel? I don't want to do a modification. I used to be able to do this!!! A mess.
All in all, Yoga is making me address my issues with perfectionism. I know that perfection is an illusion but some where along my life journey I decided it was obtainable. I had to be it. Yoga had me crying uncontrollably after weeks of doing poses like Fish of Ra and Modified Geb wheel postures. These postures opened my heart chakra and for weeks I was emotional. This from a woman whose tear ducks have been bone dry for 2 decades. Yoga is transforming me but not in the magical way I envisioned. It is challenging me emotionally, spiritually, mentally and physically. It's about surrender and perfectionism is about control. There it is.
What I know to be true... start where you are! Yoga isn't about perfecting the postures. Actually, yoga isn't about the postures at all. Per my teacher Neter Ankh, " You can be a Basu (yogi) with out ever doing a posture" "Yoga is the foundation to holistic living." "Aging is acidification and with yoga you are making the body more alkaline by transforming stress from negative into positive." Yoga is about facilitating relaxation, calm, concentration, balance through meditation and breath. Especially The Thef Neteru System or Smai Twai/Khemetic Yoga Journey. Yoga is about self mastery and awakening the divinity in oneself. The knowledge that everything is one. A principal I hold dear but didn't know from my current level of consciousness.
I intend to continue until I master self. Spirit lead me here and only spirit will guide me to completion. Send me some love, an encouraging message and follow my Smai Tawi journey via @soulsistahnaynay instastories on IG.
I love you,
Y'Na
#yoga #smaitawi #spiritual #Kemeticyoga #Egyptianyoga #Africanyoga #Blackyoga #yogi #yogajourney #sema #initiation #yogini #blackgirlmagic #blackwoman #prenatalyoga #flexibility #water #lifestyle #holisticlifestyle #veganism #alkalinebody #stress #blocks #perfectionism #doulas #doula #BirthWorkers #blog #Creatrix #Iamdivine